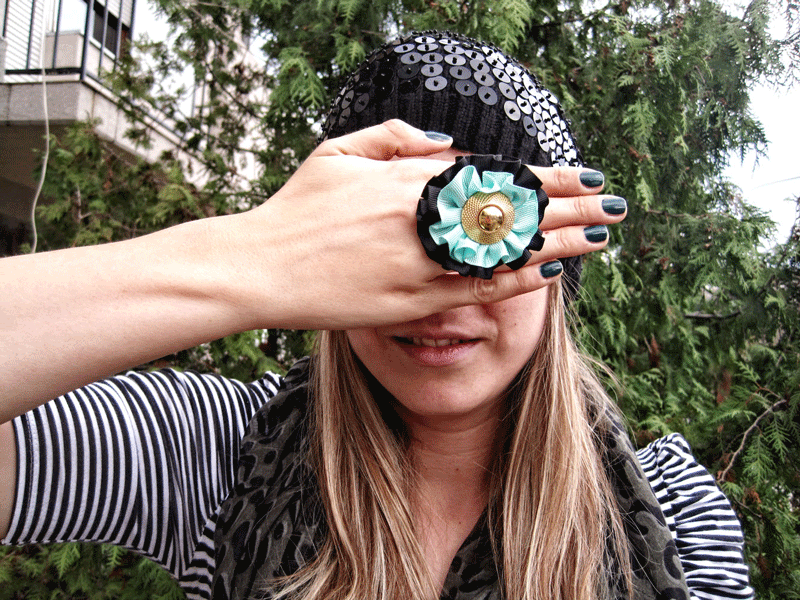 U pauzi crtanja, iskoristimo priliku da udahnemo svež, presvež vazduh, uhvatimo malo sunca, poručkamo po koju mandarinu i posrčemo Ice tea... I da me najstrpljivije srce od Anje fotka... Klik-klik-klik... Okret, obrt, smeh,... i vraćamo se na crtanje... :)
To je jedan defaultni radni dan. Popodne svako zuji svojim poslom ili pak zujimo zajedno... :)))
A čekamo lepše dane da odemo i kupimo taj veliki, dugački, džemper-kaput... I onda ćemo izgledati kao milion dolara... A za danas malo hip-hopa (omiljenog) i to 50 cent, a sve zbog ovih ganksretskih čizmica (omiljenih)...
Outfit:

bermyde_

Playlife,

majica

_ Zara,

ešarpa

_ NewYorker,

kapica

_ River Island,

kaiš

_ Accessorize,

kožna jakna

_ Pull&Bear,

prsten

_
LoveLeyla
In a break from drawing, the two girls took the opportunity to breathe in some fresh air, maybe even too fresh, soak up the sun, eat some tangerines i slurp some Ice tea...And the most patient sweetheart Anja took photos of me...Click, click, click... Turn, turn, say cheese...and back to the drawing...:)
This is how a working day looks like by default. In the afternoon everyone buzzes around or we buzz together...:)))
And we are waiting for better days to go and buy that lovely, long, jumper-coat...And then we will look like a million dollars...And today a bit of hip-hop (my favourite), 50 cent and all because my gangster boots (my favourite)...
Outfit:

Bermuda shorts_ Playlife, shirt_ Zara, scarf_ NewYorker, cap_ River Island, belt_ Accessorize, leather jacket_ Pull&Bear, ring_ LoveLeyla
:* by Marina
photos by Anja
translation by Aleksandra Paljić